Step by step guide
If you forgot your Al Balagh Academy password, you can reset it.
To reset your password visit learn.albalaghacademy.com/login
You can find a Forgot password link on this page.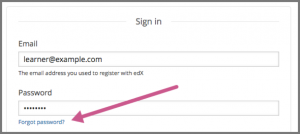 After you select this link and enter your email address, edX sends you an email message with a link to follow to reset your password.
If you are already signed in, you can reset your password on the Account Settings page.